How much money is leaking ductwork in your home or office costing you?
Seal the leaks in your ductwork with Aeroseal duct sealing and save money on energy costs, improve the comfort in your home or business, AND find relief from Austin's seasonal allergies.
Aeroseal of Austin are experts in providing professional duct sealing and ductwork repair for your home or business.
Sealing your ducts with Aeroseal helps you: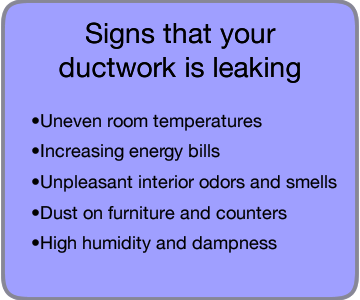 Lower heating/cooling costs by improving the efficiency of your HVAC system – Leaky ductworks waste energy and your money. Sealing your ductwork helps your A/C run more efficiently.
Improve the air quality in your home or work space by getting rid of holes, cracks and gaps where dirty air can enter your living space – Holes, gaps and cracks in your ductwork can allow insulation, dust and other unhealthy debris can get into the air you breathe.
Increase the cooling comfort where you live or work by reducing the humidity in your air – Along with dust and contaminants, heat and humidity from the airspace between your walls, crawl space and attic can get into your home during the hot summer months increasing the temperature and humidity levels in your home or workspace.
Your Once Source for Austin and Central Texas Duct Sealing
Aeroseal of Austin provides ductwork repair and duct sealing for your home, office, or commercial space.
We give you expert commercial duct sealing for your Austin and Central Texas business.
Learn more about the energy saving solution that saves you money AND increases the comfort of your home or work space.
Schedule your no-cost ductwork assessment and Let Aeroseal of Austin be a part of your green home energy solution today!


Get Started
Schedule Your Ductwork Assessment Today
Call Us: 512-850-4479
The easiest way to learn more.